Nonprofit organizations tend to serve a diverse group of consumers including people with disabilities.  If you handle any of the communications for your organization, you probably do a lot of writing in terms of developing press releases, case studies and pitches for the media.  In these materials, do you ever write about people with disabilities?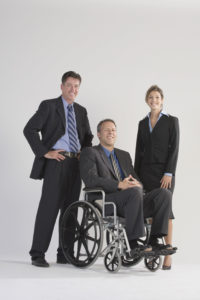 Did you know that for people with disabilities, language can represent attitudes?  Far too often, the written word conveys people with disabilities inappropriately and focuses on the disability, not the person—whether intentionally done or not.
Maybe you are aware, conscious and sensitive to the language you choose when writing about people with disabilities, but is the reporter you're working with as experienced in using the right words and expressing the kind of attitude that encourages and empowers all people?  I remember a situation in my career when I assumed the reporter I was working with on a story was educated about using non-offensive terminology when writing about a person with a disability.  I assumed wrong.  I was shocked when the headline of this major market Pennsylvania newspaper read:  "Disabled person gets a job."
Our job as responsible communicators is to ensure that we know how to write in a non-offensive, encouraging and empowering manner for ALL individuals.  It is also our job at times to inform and educate others to do the same…it's just that important and the right thing to do.
Here are some tips:
When writing about people with disabilities…
Always write in people first format. Put the focus on the person and not the disability.
For example: "person with a disability," not "disabled person."
Talk about the person's abilities rather than their disabilities.
Do not focus on a person's disability if it is not relevant to the story.
When speaking about people without disabilities, do not use "normal" or "healthy people;" instead use "people without disabilities."
Don't refer to people in general or generic terms such as "the girl in the wheelchair."
Just because someone has a disability, doesn't mean he/she is "courageous," "brave," special," or "superhuman." People with disabilities are the same as everyone else. It is not unusual for someone with a disability to have talents, skills and abilities.
Words that should never be used (but often are!)…
Handicap
Handicapped
Wheelchair-bound
Confined to a wheelchair
Special
Appropriate word choices…
Don't use disabled group/instead use a group of people with disabilities
Don't use special/instead use person with a disability
Don't use handicap parking/instead use accessible parking
Don't use retarded, retard or mentally retarded/instead use person with an intellectual, cognitive, or developmental disability
Don't use deaf and dumb/instead use person who is deaf or hard of hearing
Don't use a CP victim/instead use person with cerebral palsy
Don't use physically challenged/instead use person with a disability
Don't use insane, maniac, mental patient, mentally diseased, psycho or psychotic/instead use person with a mental health disability
Don't use dwarf or midget/instead use someone of short stature or little person
If you have questions, comments or other suggestions to offer, I want to hear from you!  Contact me at Karen@Suasion.us.