So, you are sitting at your desk and a story idea pops in your head.  You're thinking, "I need to pitch this to the press or write a news release."  But, before you pick up the phone or start typing away, have you really considered whether your "news" is truly newsworthy?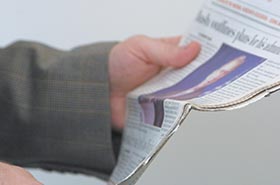 The biggest mistake you can make is thinking your story is newsworthy when it's not.  It's not only a turn off to reporters, but it can hurt relationships you have established with the media.  In fact, calling, emailing, texting or tweeting story ideas that don't have substance is considered, by most journalists as irritating, sloppy and a waste of time.
The $100,000 question is this:  How do I know if my story idea is newsworthy?   Although there's not a clear cut answer, there are some ways to look at your story to determine its value.  Here is a checklist we pulled together that may help.  If you can check off at least three or four categories, you are on the right track.
Newsworthy Checklist:
Timely: the word news means exactly that—things which are new.  Is your information timely?
Significant—the number of people affected by the story
Prominence
Revolutionary/innovative/groundbreaking
Unique-offers different perspective
Interesting/compelling
Educational
Helpful
Emotional
Impacts the community
Impacts the local economy
Impacts audience
New data
Solution to a problem
Appeals to a mass audience
Trendy
Were you only able to check off one or two categories?  If so, what can you do to enhance your story idea to make it more newsworthy?  Getting the right angle is critical to generating interest.  Think through your approach to a story and determine what you can do to add substance.  Here are some ideas:
Can you link your story idea to…
Testimonials or personal stories;
Events or an awareness day/month;
Credible resources;
or
New report, study or statistics?
Going through both of these lists before you contact the press or write a news release will surely add depth and interest to your story.  When it comes to successful media relations, it is true that you must have a solid media list, good relationships with the press, a thorough understanding of who covers your beat, and a dynamite approach.  But, none of this matters if you don't start with a newsworthy story.
For more information or to ask me a question about media relations, email me at Karen@suasion.us.